VERY GOOD!!!! I made both rice and pasta to eat with this. Yummmmmm...I had the rice, Jim had the pasta. We both liked it.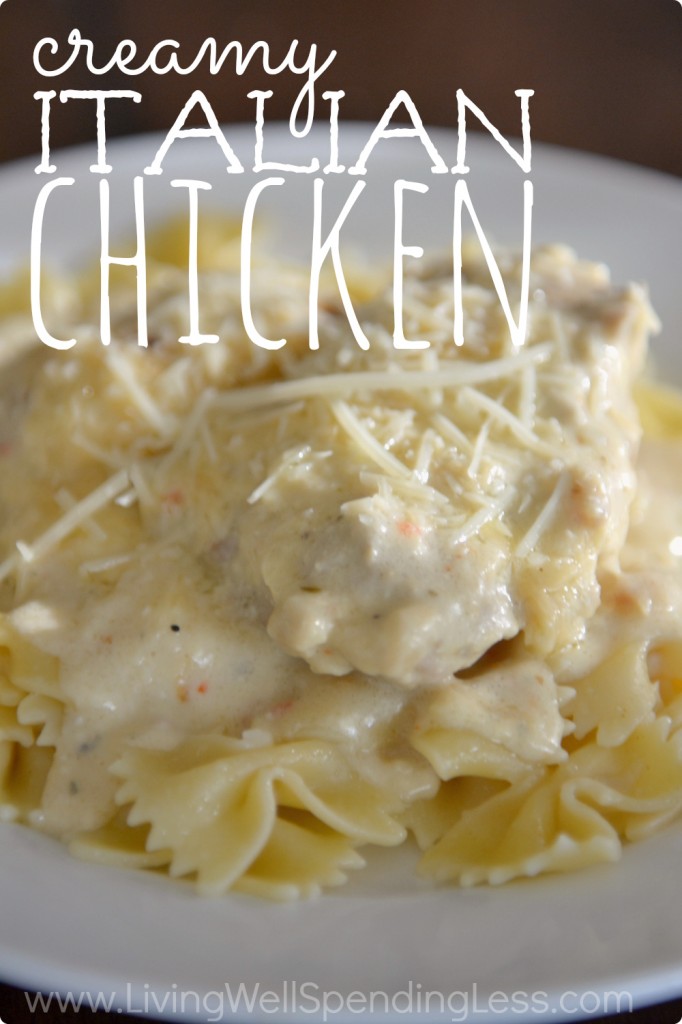 Summary: This slow cooker friendly recipe uses pantry staples to create an amazing chicken dinner!
Ingredients
1 16oz bottle Italian salad dressing (about 2 cups)
1 package Italian salad dressing mix
2 8oz packages cream cheese, softened
2 cans condensed cream of chicken soup
3-4 pounds skinless, boneless chicken breasts or thighs
shredded parmesan cheese (optional)
Instructions
In large bowl, whisk together Italian dressing, dressing mix, cream cheese, and cream of chicken soup until smooth.
Divide cream cheese mixture into 2 gallon-size freezer bags. (Be sure to label bags first!)
Divide chicken into bags; press out air and freeze.
Place contents into slow cooker; cook on low for 3-4 hours until chicken is cooked through. Or, if preferred, thaw and bake in shallow dish at 350 degrees for 30 minutes, then sprinkle with parmesan cheese and broil for several minutes until cheese is lightly browned and bubbly. Serve over pasta.
Preparation time: 5-10 minutes
Cooking time: 3-4 hours in slow cooker or 25-30 minutes in oven.
Number of servings (yield): 8
Read more at http://www.livingwellspendingless.com/2014/05/07/crockpot-italian-chicken-recipe/#l8ve1afpIcByFxjG.99