Broccoli & Rice Gratin By Lois M on September 13, 2004 at Food.com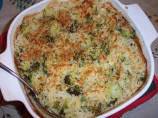 Prep Time: 15 mins
Total Time: 50 mins
Servings: 4-6

About This Recipe

Note by recipe author: "Creamy baked rice and broccoli, an easy delicious side dish or light lunch with a salad and sliced tomatoes! My DD will only eat rice if cooked like this (or chinese) it is really easy, and tastes great! Good re-heated too! I have also used spinach or 1 cup of frozen peas instead of the broccoli. I think this came from a milk calander."


Ingredients
1/4 cup butter
1 small onion, chopped
2 cloves garlic, minced
1/4 teaspoon thyme
1 cup long grain rice
1 tablespoon all-purpose flour
1 1/2 cups chicken broth
1 cup chopped broccoli
1 cup milk
2 tablespoons grated parmesan cheese
1 teaspoon lemon, zest of
Crumb topping
1/2 cup dried breadcrumbs
1/4 cup grated parmesan cheese
2 tablespoons melted butter
2 tablespoons chopped fresh parsley

Directions
Preheat oven to 375 In a large fry pan, melt butter.
Add onion and garlic and cook for 1 min over med heat.
Add thyme, rice, and flour, stirring for 1 minute Pour in chicken broth, stir and bring to a boil, cook for 1 minute Remove from heat.
Stir in broccoli, milk and parm cheese.
Mix well
pour into a buttered 6 cup casserole dish.
Cover and bake for 35 min or until tender.
Meanwhile, to make crumb topping, toss together all ingredients and set aside.

Directions
Remove casserole from oven, stir in lemon zest and sprinkle with crumb topping.
Broil for 1 to 2 min until golden.