BAKED BLUEBERRY LEMON FRENCH TOAST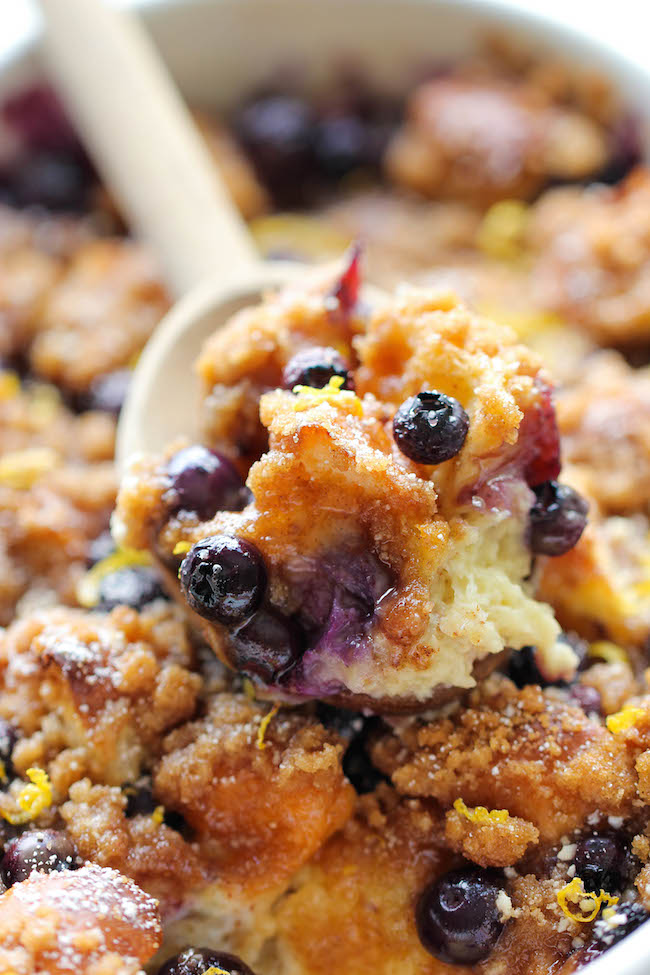 Prep Time2 hours, 15 minutes
Cook Time45 minutes
Total Time3 hours
Yield8 servings
Amazingly sweet and scrumptious make-ahead french toast using a secret ingredient - sweet and fluffy Hawaiian bread!
INGREDIENTS
1 (12-count) package
KING'S HAWAIIAN Original Hawaiian Sweet Dinner Rolls
, cubed
1 cup blueberries
1 1/2 cups milk
3 large eggs
2 tablespoons maple syrup, or more, to taste
Zest of 1 lemon
1 1/2 teaspoons vanilla extract
1 teaspoon cinnamon
1/4 teaspoon nutmeg
FOR THE CRUMB TOPPING
1/4 cup all-purpose flour
1/4 cup brown sugar, packed
1/2 teaspoon cinnamon
1/4 cup unsalted butter, cut into cubes
2 tablespoons confectioners' sugar
Print a Coupon for Fortify™ Probiotics
INSTRUCTIONS
Lightly coat a 9x13 baking dish with nonstick spray. Place a layer of bread cubes evenly into the baking dish. Top with blueberries in an even layer, repeating 2 more times and ending with a layer of bread.
In a large glass measuring cup or another bowl, whisk together milk, eggs, maple syrup, lemon zest, vanilla, cinnamon and nutmeg. Pour mixture evenly over the bread cubes. Cover and place in the refrigerator for at least 2 hours or overnight.
Preheat oven to 350 degrees F.
To make the crumb topping, combine flour, sugar and cinnamon in a small bowl. Add cold butter and toss to coat, using your fingers to work the butter into the dry ingredients until it resembles coarse crumbs. Sprinkle the crumb topping evenly over the bread cubes.
Place into oven and bake for 35-45 minutes, or until golden brown.
Serve immediately, sprinkled with confectioners' sugar, if desired.