Copycat Lipton's Onion Soup Mix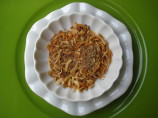 Prep Time: 10 mins
Total Time: 10 mins
Serves: 4, Yield: 19 tablespoons, approximately
About This Recipe
"This is an incredibly good clone of the real thing. A friend emailed this recipe to me."
Ingredients
3/4 cup instant minced onion
1/3 cup beef bouillon powder
4 teaspoons onion powder
1/4 teaspoon crushed celery seed
1/4 teaspoon sugar
Directions
Combine all ingredients and store in an airtight container.
About 5 tablespoons of mix are equal to 1 1¼-ounce package.
To make onion dip: Mix 5 tablespoons with one pint of sour cream.
Found here http://www.food.com/recipe/copycat-liptons-onion-soup-mix-24952
ANOTHER VERSION IS:
Homemade Dry Onion Soup Mix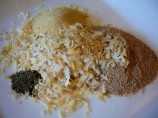 Prep Time: 5 mins
Total Time: 5 mins
Yield: 1 packet
About This Recipe
"This recipe is from www.kitchenmixes.com. It is a great substitute for the boxed onion soup mix. It equals one packet or about 1-1/4 ounces. You can add garlic powder or other seasonings if you wish. It also makes a great gift for cooks. Make up some packets of onion soup mix, add a soup ladel, soup bowls, soup spoons, recipes, and some non-perishable ingredients. Place in a basket or pretty box wrapped in a tea towel."
Ingredients
4 teaspoons beef bouillon granules
8 teaspoons dried onion flakes
1 teaspoon onion powder
1/4 teaspoon seasoned pepper
Directions
Cut a 6-inch square of heavy duty foil.
Place all ingredients in center of foil.
Fold foil to make an airtight package.
Label with date and contents.
Store in a cool, dry place.
Use within 6 months.
Found at: http://www.food.com/recipe/homemade-dry-onion-soup-mix-110331