Italian Dressing Seasoning Dry Mix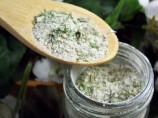 Prep Time: 5 mins
Total Time: 5 mins
Serves: 24, Yield: 8 tbs
About This Recipe
"This is a delicious all-purpose dry seasoning that is good in spaghetti sauce, chicken and dumplings, in pasta salads, or sprinkled on fresh, ripe sliced tomatoes. It also makes a good Italian Salad Dressing for salads or marinade. Omit salt if you like."
Ingredients
1 1/2 teaspoons garlic powder
1 tablespoon onion powder
2 tablespoons oregano, ground or 2 tablespoons oregano leaves
1 tablespoon dried parsley
1 tablespoon granulated sugar
2 tablespoons salt or 2 tablespoons salt substitute
1 teaspoon black pepper
1 teaspoon ground basil or 1 teaspoon basil leaves
1/4 teaspoon ground thyme or 1/4 teaspoon thyme leaves
1/2 teaspoon dried celery leaves or 1/2 teaspoon dried celery flakes
Directions
Mix all ingredients together and store in air-tight container.
ITALIAN SALAD DRESSING: Mix 2 tbs of this mix with 1/4 cup vinegar, 2 tbs water, and 1/2 to 2/3 cup olive oil or canola oil.
Shake before using.