Zesty Italian Dressing Spice Mix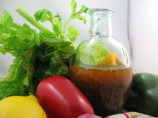 Prep Time: 10 mins
Total Time: 10 mins
Yield: 1 cup
About This Recipe
"Make two batches of this-one to have on hand for several batches of Italian Dressing and one to use as a seasoning for grilled or roasted chicken! From Down Home with the Neely's Cookbook."
Ingredients
Spice Mix
1 tablespoon garlic salt
1 tablespoon onion powder
1 tablespoon sugar
2 tablespoons dried oregano
1 teaspoon fresh ground black pepper
1 teaspoon dried thyme
1 teaspoon dried basil
1 teaspoon dried parsley
1/4 teaspoon celery salt
2 tablespoons cajun seasoning
Zesty Italian Dressing
1/4 cup red wine vinegar ( original recipe called for white wine vinegar)
2/3 cup extra virgin olive oil
2 tablespoons water
2 tablespoons mixed spice ( above spice mix)
Directions
In a small bowl, whisk together the garlic salt, onion powder, sugar, oregano, pepper, thyme, basil, parsley, celery salt, and Cajun seasoning.
Store the spice mix in a tightly sealed container, and use as needed.
To make dressing, whisk together the vinegar, oil, water and 2 tbls. of the spice mix. Enjoy!
Found at: http://www.food.com/recipe/zesty-italian-dressing-spice-mix-413362