The Author says: I saw a recipe for
Gorgonzola Truffles
and she mentioned she served them with apples, grapes or pears and I thought, well, gosh, why not put the apple INSIDE the truffle? How marvelous would that be, to have a crunchy surprise bite of sassy apple right inside your creamy cheese?
So I made up my own version of Gorgonzola Truffles, with chunks of honey crisp apple inside. It totally works! The mixture of sweet and savory, creamy and crunchy is just marvelous, perfect for a holiday appetizer or cocktail party.
I took some to work to see if my coworkers agree whether they thought I should serve these at the holiday event we have coming up and everyone who tasted them totally agreed … yes, oh yes.
The really awesome bit about these little bites is you can make them ahead of time and the apples won't go brown because they are enfolded in cheese, not exposed to air! Keep them in an airtight container in the fridge for a day or two.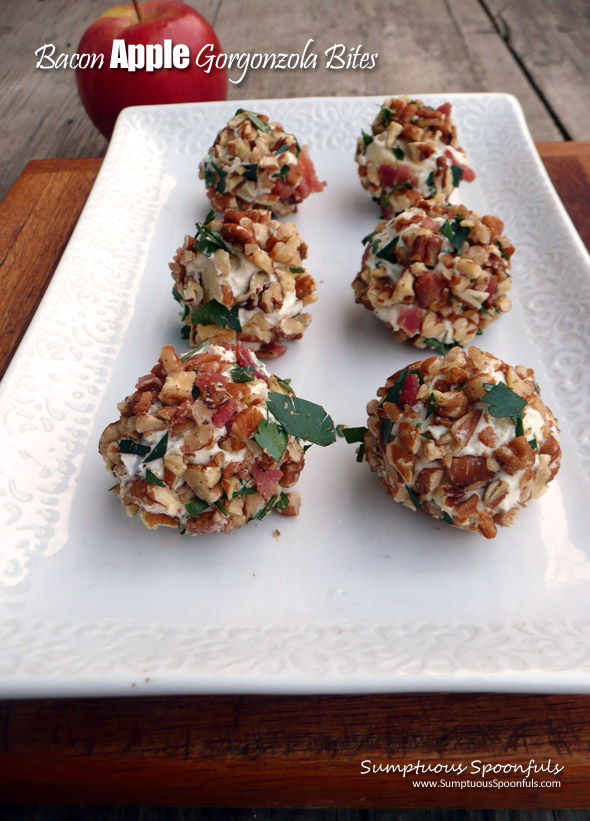 Prep Time: 30 minutes
Cook Time: 30 minutes
Total Time: 1 hour
Ingredients
For the cheese mixture:
3 - 4 slices lean bacon, cooked and crumbled
1 8-oz. package Greek cream cheese (or Neufchatel), softened
2 - 4 Tablespoons crumbled gorgonzola cheese
1/2 cup shredded Italian blend of cheeses
1 - 2 Tablespoons snipped chives
For the crunchy coating:
1/2 cup pecans, chopped and toasted
1/4 cup parsley, chives, or green onions (or a mix of these), chopped
For the surprise inside:
1 - 2 crisp apples, peeled, cored and chopped into chunks (I used honeycrisp)
Instructions
Cook up the bacon and chop it into crumbles.
Put the softened cream cheese in a medium mixing bowl. Stir in the cheeses, then half the bacon and the chives. (Reserve the rest of the bacon for the crunchy topping.) Set the cheese mixture in the fridge to cool a bit.
Chop and toast the pecans, then put them in a small bowl with the rest of the bacon and the chopped parsley.
Now peel and core an apple and cut into 3/4-inch chunks. Dip each apple chunk in the cheese mixture, using a spoon and/or your fingers to pat some cheese all around the apple chunk. The cheese won't stick to the apple, so just do your best to encase the apple in cheese.
Clean your fingers and roll the little cheese ball in the nut mixture and set on a clean plate. If you still have cheese left, repeat with the 2nd apple. Continue until the apples or the cheese is gone.
Chill the mini cheese balls completely in the fridge before serving (at least 30 minutes). Serve cold.
RECIPE SOURCE:
http://www.sumptuousspoonfuls.com/