Gingerbread houses, meet your match. These festive Christmas Tree Cupcakes serve a similar function as part dessert, part decoration for your holiday table. Moist chocolate cupcakes become the base of spruced up sugar cones adorned with bright green frosting and edible silver sprinkle ornaments and, the piece de resistance, a light dusting of powdered sugar snow.
Sound challenging? Tune in to my video below to see the full technique in action.
Just imagine an entire forest of these edible trees lining your holiday table or surrounding a gingerbread house, adding a pop of color and flavor alongside each cookie wall.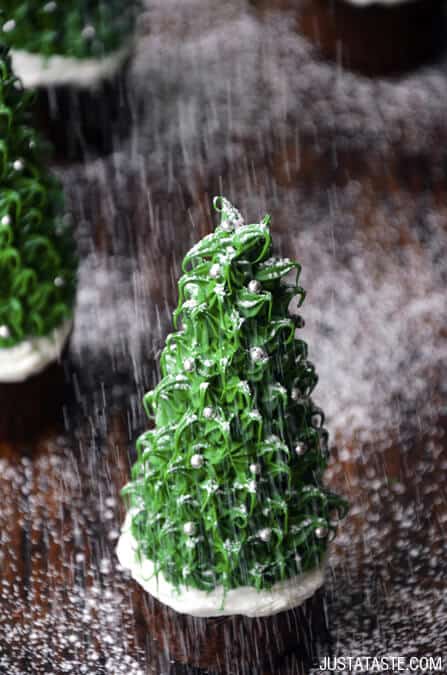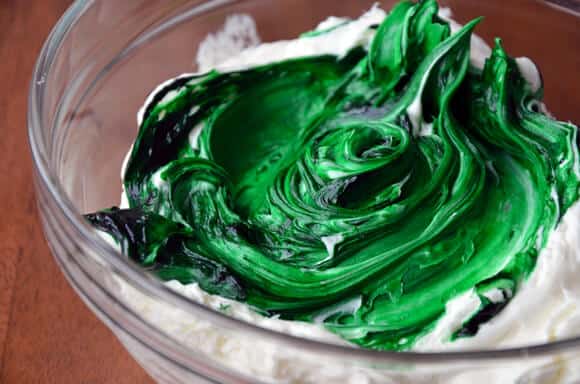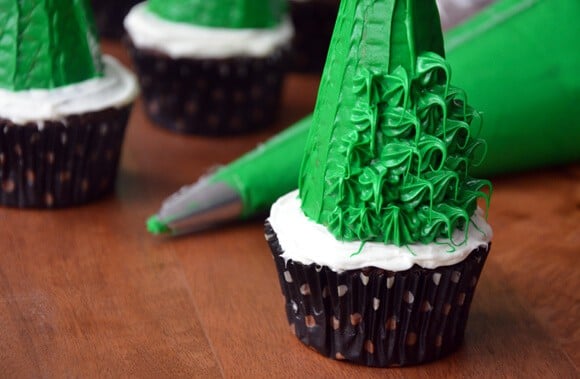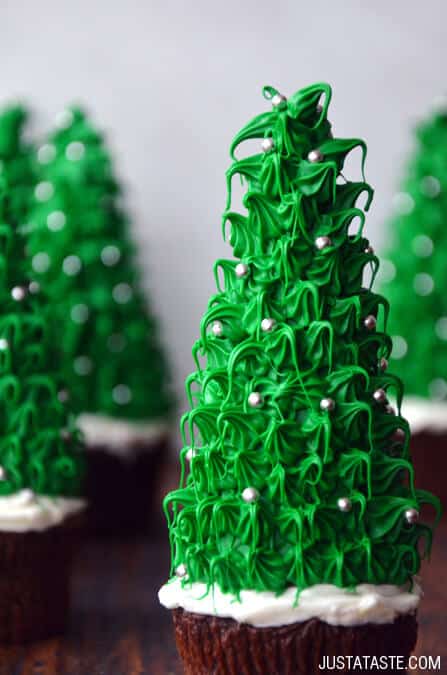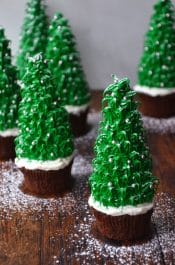 Yield: 6 cupcakes
Prep Time: 45 min
Ingredients:
6 chocolate or
vanilla cupcakes
3 cups homemade or store-bought vanilla frosting (See Kelly's Notes)
2 Tablespoons green food coloring
6 ice cream sugar cones
Edible silver ball sprinkles
Powdered sugar, for dusting
Special equipment: pastry bag or gallon-sized sealable plastic bag; small star-shaped pastry tip (such as Wilton #18)
Directions:
If necessary, slice the tops off of the cupcakes to create a flat surface. Slather a small portion of the frosting on the cupcakes to create a base atop which to position the sugar cone tree.
Stir the food coloring into the remaining frosting, adding more food coloring as necessary to achieve your desired green color. Apply a thin layer of frosting on the exteriors of the sugar cones. Transfer the remaining frosting to a pastry bag fitted with the star-shaped pastry tip.
Place the sugar cones atop the cupcakes then pipe leaves onto the trees. Garnish with the edible silver ball sprinkles and dust with powdered sugar.
Kelly's Notes:
Three cups of frosting is equivalent to two 16-ounce cans of store-bought frosting.
The sugar cones can be decorated and stored (not on top of the cupcakes) for 1 day in an airtight container. Frost cupcakes and top with trees right before serving.
Method inspired by
MarthaStewart.com
.