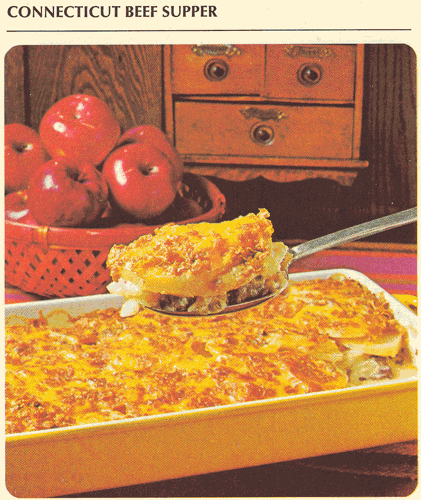 When hubbs and I got married, the ladies of my home church got together and wrote out some of their favorite recipes and then presented them to me as a gift. My Sister-In-Law, Carol, contributed this one and it is quite tasty as I recall. Doesn't this look pretty (the picture is from a 1971 Betty Crocker Recipe Card!) and sound perfect for a cold evening?
Serves 6-8
Ingredients:
2 T Shortening or butter
2 lb Stew Meat in 1" cubes
2 lg Onions, sliced
1 c Water
2 lg Potatoes, thin sliced (or 4-5 med potatoes)
1 can Cream of Mushroom Soup
1 c Sour Cream
1 1/4 c Milk
1 tsp Salt
1/4 tsp Pepper
1 c Shredded Cheddar Cheese
1 1/4 c Wheaties, crushed (or other Corn Flakes)
Directions:
Melt shortening & cook meat ad onion until meat is browned and onion tender.
Add water, heat to boiling.
Reduce heat and simmer, covered for 50 min.
Heat oven to 350 degrees.
Pour meat into large baking dish.
Arrange potato slices over meat.
Stir soup, sour cream, milk, salt & pepper together & pour over meat & potatoes.
Sprinkle with cheese and cereal.
Bake uncovered 1 1/2 hr, til potatoes are tender.
This is the original handwritten recipe from Carol


This is another version of it that I found at Cooks.com. It is similar, but a bit different. This one uses ground beef rather than stew meat and doesn't use any onions or shortening.


Ingredients:
1 lb. ground beef, browned with onion
2 lg. potatoes, thinly sliced (I use more)
1 can mushroom soup
1 1/4 c. milk
1/4 tsp. pepper
1 1/4 c. Wheaties or crackers, crushed
1 c. sour cream
1 tsp. salt
1 c. shredded Cheddar cheese



Directions:


Pour beef into 9 x 13 inch pan.
Arrange potato slices on meat.
Stir together soup, sour cream, milk, salt and pepper.
Pour over potatoes.
Sprinkle with cheese and crumbs.
Bake uncovered at 350 degrees for 1 1/2 hours or until potatoes are tender.