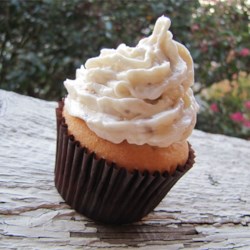 Buttercream-Coconut Cake Icing
Prep15 m
Ready In15 m
Recipe By:Rizzy Fischer
"This simple icing recipe pairs perfectly with ANY type of cake!"
Ingredients
1/2 cup unsalted butter, softened
1/2 cup vegetable shortening
1 teaspoon vanilla extract
3 cups confectioners' sugar, sifted
2 tablespoons milk, or as needed
1 (7 ounce) package sweetened flaked coconut, divided
1/4 cup chopped pecans

Directions
Beat butter and shortening with an electric mixer in a large bowl until smooth; beat in vanilla extract.
Gradually beat confectioners' sugar into butter mixture until well blended. The mixture will appear dry.
Stir enough milk into butter mixture to achieve desired consistency for icing.
Fold half the coconut into the icing; spread icing over cake.
Sprinkle remaining coconut and pecans over icing.

From http://allrecipes.com/recipe/221110/buttercream-coconut-cake-icing/print/?recipeType=Recipe&servings=16