Fajita Seasoning Mix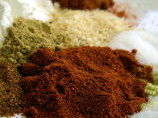 Prep Time: 5 mins
Total Time: 5 mins
Yield: 10 teaspoons
About This Recipe
"Rather than buying fajita seasoning, it's easy to make your own. Approximately 2 tablespoons equals 1 store-bought seasoning packet."
Ingredients
1 tablespoon cornstarch
2 teaspoons chili powder
1 teaspoon salt
(1/4 tsp Salt)
1 teaspoon paprika
1 teaspoon sugar
3/4 teaspoon crushed chicken bouillon cube
(I used Knorr Caldo Con Sabor de Pollo)
1/2 teaspoon onion powder

(3/4 tsp Onion Powder)
1/4 teaspoon garlic powder
(1 tsp Garlic Powder)
1/4 teaspoon cayenne pepper
1/4 teaspoon cumin
(1 1/2 tsp Cumin)
Directions
Combine all ingredients in a small bowl.
Use as needed in recipes calling for fajita seasoning.
**MY NOTE: I changed it up a bit, so my amounts are in red. I cut the salt to 1/4 tsp. I forgot to put in the cornstarch when I made mine but it wasn't a problem for use to rehydrate freeze dried chicken. I think it would make a difference if using fresh chicken.
Based on this recipe http://www.food.com/recipe/fajita-seasoning-mix-28011