Dry Enchilada Sauce Mix Substitute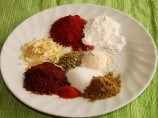 Prep Time: 5 mins
Total Time: 5 mins
Serves: 1, Yield: 1.5 ounces
About This Recipe
"I came across a recipe recently that called for dry enchilada mix but I couldn't find it at the store. I searched around a bit and eventually came up with this recipe to use in its place. One recipe is the equivalent of a 1.5 oz package."
Ingredients
2 teaspoons mild chili powder
2 teaspoons paprika
2 teaspoons cornstarch
1 1/2 teaspoons salt
1 1/2 teaspoons dried onion flakes
1 teaspoon sugar
1 teaspoon ground cumin
1 teaspoon garlic powder
1/2 teaspoon oregano
1/2 teaspoon ground coriander
1/4 teaspoon cayenne
Directions
Mix all ingredients together and store in airtight container.
Found at: http://www.food.com/recipe/dry-enchilada-sauce-mix-substitute-306854